Cougar Connect – September 25, 2023
Dear Coolidge Families,
Happy Fall! There's lots of info to share again this week! Keep reading to learn more about upcoming events, current volunteer opportunities, and reminders.
Update your Coolidge PTO Member Profile
Our membership lists and are being finalized for publication in the directory. Login to your PTO account by September 28th to update your contact information. Please make sure that your children's grades and homerooms are current as well.
Coolidge Jibbitz!
Custom Coolidge Jibbitz are now available for $5 each.
Green Team Update

 – Walk to School Day 
Our first school-wide Green Team event is Coolidge's Annual Walk to School Day on Wednesday, October 4.
Get some fresh air and leave your car behind!
Walk or bike to school to get some exercise and reduce traffic and air pollution!
Students will be happily greeted by the Cougar and some music upon their arrival on this fun kick-off to the school day!   Fun Idea: Reach out to your friends and neighbors to create a "Walking School Bus" from your neighborhood. Don't forget about friends that live too far to walk, invite them to be dropped off at your house so they can walktoo.Thank you for joining the fun and for being mindful of reducing traffic and air pollution
Parents Night Out
Tickets are available for the PTO Parents Night Out taking place on Saturday, October 14th at the Midland Park Social Hall from 6:00pm – 10:00pm!  Tickets are limited and must be purchased by Thursday, October 5th at midnight.  Click here to pre-order your tickets!
Some useful event information:
The event will have food including sliders, wraps and salads, open bar with assorted beers & wines and a DJ!
There will be a Beer Pong Tournament! Register here to reserve your team's position by Monday, October 9th at midnight (space permitting). We'll use a 16-team bracket, which allows 32 individuals to play. Participants will play with water, but may drink socially during the game.  Please bring $20 cash only for your entry fee per person.  
Volunteers are needed and appreciated to help make this night a success.Sign up here to volunteer for the event.
If you have any questions, please reach out to Christina DeGennaro and Nicole Dennis at coolidgepno@gmail.com. 
Book Fair Information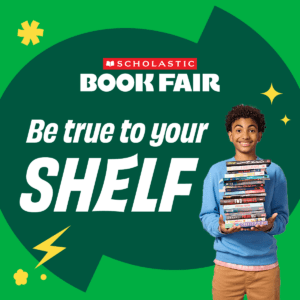 The Scholastic Book Fair is coming soon! Students will shop in school with their classes on October 4th and 5th. Parents can shop with their children during evening hours on October 4th, from 6:00pm – 8:00pm. More information can be found on our dedicated Scholastic Book Fair site.
The success of the fair depends on parent volunteer support from set up all the way through breakdown. Click here to volunteer!
Harvest Fest Committee Announcements
and
Pumpkin Decorating Signups
Harvest Fest planning is underway!  Here is the event flyer. Read on for the pumpkin decorating info and sign up link, and info about our Fall Fundraiser.
Pumpkin decorating is a long held Coolidge tradition and a vital part of
Harvest
Fest
's success! Please sign up below to decorate pumpkins for the event – note there is a minimum of 3 pumpkins per person, but please feel free to decorate any number more than that as well. Pumpkin pickup will be on October 8th and decorated pumpkin drop off will be the morning of the 20th – timing and location details to follow. We truly appreciate your help in making this year's
Harvest
Fest
a great success!
*Note: if you are signing up from your phone, please make sure to scroll left to locate the sign up box."
Shop locally for your fall mums, cabbage, kale, and pumpkins. A portion of your proceeds will benefit the PTO. Click the image below for the info.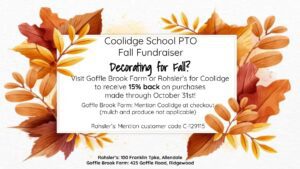 The Economy Shop
The volunteer sign-up is LIVE!
Sign up by clicking the link below. Coolidge week is Tuesday, October 17 to Saturday, October 21. Morning (9:45 – 12:00) or afternoon (11:45 – 2:00) shifts are available, as well as evening shifts on Thursdays (6:45 – 9:00 pm). Last year the Economy shop donated $10,500 to Coolidge. That's a chunk of change YOU can help Coolidge earn by volunteering.  Please reach out to Ashley Mungiello if you have any questions.
Year-Long Coolidge Fundraising
Box Tops
Coolidge is a Box Tops School! Since Coolidge began participating in Box Tops we have earned over $11,000 for the school!
Here are some important reminders and updates about the program.
       – If you haven't joined Box Tops yet, now's the time. Download the BoxTops app and use referral code OPH57EHN help us get even more money for Coolidge. This week, when you use the PTO referral code and scan your first receipt, you will earn additional money for our school!  Don't forget to share your personal referral code with friends and family. Their purchases will help Coolidge too!
      – No more cutting required! Simply download the BoxTops app and scan your store receipts to earn money for Coolidge. So easy!
    – Digital receipts are now accepted. When you're in the app, hit the "+" button labeled "Scan" at the bottom of the home screen. Select "Digital Receipt" from the list. Choose the retailer and follow the prompts.
Name Bubbles
Create your custom labels, clothing labels, everyday labels and more.
Name Bubbles will ship your order quickly and donate 20% of the total back to the Coolidge PTO.
This is the Coolidge PTO Fundraising page link.
Our personal pto reference code is rfsn=7533508.5d0c3c
Important October Dates
October 4th – Walk/Bike to School Day and PTO Meeting at 7pm in the MPR
October 4th and 5th – Scholastic Book Fair
October 14th – Coolidge Parents Night Out
October 16th – School Picture Day
October 20th – Harvest Festival (rain date October 27th)
October 31 – Halloween Parade 2:30pm