Cougar Connect -November 12,2023
Dear Coolidge Families, 
Please see the following PTO updates and reminders. Have a great week!
School Schedule Reminders
Tomorrow, November 13th is a minimum day at Coolidge. Dismissal is at 1:05pm
There is a delayed opening on Tuesday, November 14th. Drop off begins at 10:05am. School begins at 10:20am. 
Bagel Lunch Update - November 13th
Bagel Lunch orders will be distributed to students tomorrow, November 13th. Kindergarten students will still receive their bagel orders according their usual in-class lunch schedule. All other students will receive their orders from their homeroom teachers to take home.
Jersey Mike's Lunch Day!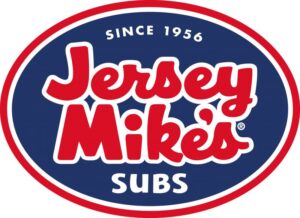 The Coolidge PTO is excited to offer a special Jersey Mike's lunch option on Friday, December 1st.
There are several sandwich varieties to choose from. Gluten free options are available at no additional charge. Each order comes with Lays potato chips. The deadline to order is Sunday, November 19th at noon.
Click here to see the menu and place your orders.
*Note: At checkout, you will see an option to leave a tip. Please be aware that the tip does not benefit the Coolidge PTO, but goes to our PTOffice online platform service. You can adjust the amount of the tip as you see fit.
Economy Shop
The Economy Shop is always in need of volunteers! Volunteer during a Coolidge week or an All Schools week. It's a 2 hour shift where you'll meet new people, find cool stuff, and help our school raise funds! Sign up here ! Questions? Contact Ashley @ 607-280-2054.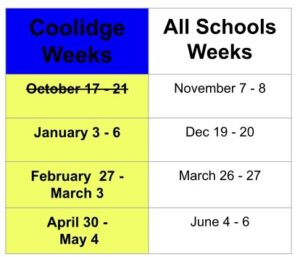 WEF Thanksgiving Pie Drive
WEF Thanksgiving Pie orders are due this Tuesday, November 14th. Pick up will be on November 21st at Coolidge. 
Don't forget to add a pie (or two!) for Families for Families to your order! Click here to order.
*During checkout, you will notice a "contribution" option in your order summary . This is an automatically generated fee through Zeffy and does not benefit WEF or Families for Families. If you wish to change that amount, choose "Other" from the drop down menu and and enter your preferred contribution amount, from "0" upwards.
PTO Meeting
Our next meeting will take place on December 6th, in the afternoon. Mr. Cosman and Ms. Pennino will join us and demonstrate how they use Promethean Boards in their respective classrooms. Stay tuned for details regarding time and location. 
December Author Visit - Wendy Mass
The Coolidge PTO is excited to sponsor an upcoming author visit! Wendy Mass will visit Coolidge on Friday, December 8th to meet with students and talk about her writing process. Special thanks to Mrs. Needleman for organizing this fantastic opportunity! Parents, if you would like to order autographed books for your children, please see the order form that was sent home with your children at the end of October. If you need to print additional forms, a PDF is available in the Friday Folder Handouts on the Coolidge School website.  Orders must be placed by November 20th.
Strategic Planning Meetings
The 2023 Wyckoff School District Strategic Planning process includes a series of three stakeholder meetings facilitated by the New Jersey School Boards Association (NJSBA). The third and final meeting will take place on November 30th. All members of the Wyckoff educational community are invited to participate.
An email regarding the agenda and registration for the third meeting was sent out last week. Please check your inbox and be sure to register if you'd like to attend.
 Ongoing Fundraisers
Coolidge is a Box Tops School! Since Coolidge began participating in Box Tops we have earned over $11,000 for the school!
Here are some important reminders and updates about the program.
       – If you haven't joined Box Tops yet, now's the time. Download the BoxTops app and use referral code OPH57EHN help us get even more money for Coolidge. This week, when you use the PTO referral code and scan your first receipt, you will earn additional money for our school!  Don't forget to share your personal referral code with friends and family. Their purchases will help Coolidge too!
      – No more cutting required! Simply download the BoxTops app and scan your store receipts to earn money for Coolidge. So easy!
    – Digital receipts are now accepted. When you're in the app, hit the "+" button labeled "Scan" at the bottom of the home screen. Select "Digital Receipt" from the list. Choose the retailer and follow the prompts.
Name Bubbles
Create your custom labels, clothing labels, everyday labels and more.
Name Bubbles will ship your order quickly and donate 20% of the total back to the Coolidge PTO.
This is the Coolidge PTO Fundraising page link.
Our personal pto reference code is rfsn=7533508.5d0c3c
https://www.namebubbles.com/?rfsn=7533508.5d0c3c
Important Dates
November 13th - Minimum Day 
                                  Parent/Teacher Conferences. 
                                  6:30pm -Board of Education Meeting - Eisenhower
November 14th - Delayed Opening - Drop off begins at 10:05am
November 22nd - Minimum Day
November 24th /25th - School Closed: Thanksgiving
December 8th-  Author Visit- Wendy Mass